Save the date: Cornucopia, Whistler's Celebration of Food + Drink returns November 6-16, 2014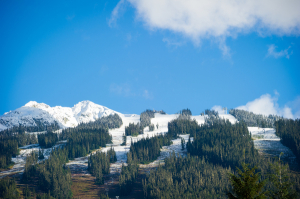 Whistler, B.C. – It's difficult to imagine winter with the hot summer sun shining brightly however plug November 6 – 16 into your calendars for the return of Cornucopia presented by BlueShore Financial is Whistler's Celebration of Food + Drink.
Building on the success of last year's expanded festival; Cornucopia 2014 continues to be celebration for the senses, honouring all things food and drink and is the place to be seen in Whistler each fall, attracting more than 6,500 attendees annually.
Local, regional and international wines are featured at Cornucopia's signature gala grand tasting, Crush. Last year's runaway hit, Poured also returns sampling cider, beer, wine complimented with a selection of tapas. New events on the tasting schedule include "With a Twist" where ticket  holders choose their own cocktail adventure and Cellar Door, a selection of wines when you need to impress. Chef's luncheons, cooking stage demo's and winery dinners highlighting culinary creations celebrating local fare from Whistler's renowned chefs and beyond fill out the schedule of events for all tastes and budgets.
For the latest schedule information visit www.whistlercornucopia.com.
Faces of Cornucopia
Samantha Rahn, Wine Director
A passionate sommelier and world-traveler, Samantha arrived at Araxi in October, 2007 following a tour through Burgundy. Previously residing in Banff, Rahn was wine director at the award-winning Maple Leaf Grille for six years where she led the restaurant to numerous recognitions, including Wine Spectator's 'Best of' Award of Excellence.
Trained at the Wine and Spirit Education Trust and with over 15 years of hospitality experience, Samantha sources exciting, value-driven wines to complement Araxi's highly acclaimed, 11,000 bottle library. In 2013, Samantha won the title of "Sommelier of the Year" at the Vancouver International Wine Festival and was recognized with the "Premier Crew Service Award" at the Vancouver Magazine Restaurant Awards. An accomplished musician, Samantha is also a former snowboard cross racer, certified snowboard coach and avid downhill mountain
bike competitor. www.araxi.com
Whistler is Canada's premier year-round leisure and meeting destination located in the Coast Mountains 120 kilometres (75 miles) north of Vancouver, British Columbia, Canada. Consistently rated the top ski resort in North America, Whistler was the Host Mountain Resort of the 2010 Olympic and Paralympic Winter Games. The resort offers an extensive range of accommodations totaling 10,000 bedrooms among 24 hotels as well as townhomes, condos, B&Bs and chalets. Whistler also boasts more than 100 restaurants and bars, 200 retail shops, 25 spas and countless activity options from world-renowned skiing and snowboarding, mountain biking and golf, to hiking, rock climbing, and watersports. The Resort Municipality of Whistler is home to a diverse community of more than 10,000 permanent residents.
Tourism Whistler is the member-based marketing and sales organization representing Whistler, operating the Whistler Conference Centre, Whistler Golf Club, Whistler Visitor Centre, as well as 1.800.WHISTLER and whistler.com – Whistler's official source for visitor bookings and information. As the convention and visitors bureau for the Resort Municipality of Whistler, Tourism Whistler represents more than 7,000 members who own, manage and operate properties or businesses on resort lands including hotels, restaurants, activity operators and retail shops.