Women's Southern Italy Epicurean Adventure – May 22-31, 2017, From $6,695
Journey into the heart of southern Italy on this active, fun-filled exploration of picturesque Puglia just for women. This region is rich with sunshine, charming landscapes, delectable cuisine, and outstanding wines. Straddling the Ionian and Adriatic seas, Puglia's shores are flanked by steep cliffs that overlook the shimmering crystal-clear waters and golden beaches below. Inland Puglia opens to great valleys and gentle hills covered with vineyards, lavish forests, and olive trees. Puglia's openness and rustic charm are reflected in the locals' welcoming personalities and the communal sharing of food; local dishes are simple yet flavorful and have stood the test of time as they've passed from generation to generation. Puglia's long and colorful history, spanning Byzantine and Norman occupation, has produced an eclectic mix of architectural and cultural sites like menhirs, cave churches, and medieval castles. In Puglia, while we're not hiking, shopping, or tasting, we'll explore wineries, bicycle, and learn to create traditional Pugliese dishes alongside master chefs.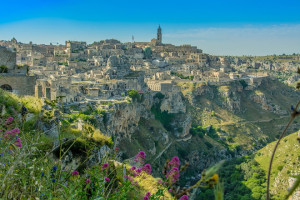 Wildland Adventures' Women's Southern Italy Epicurean Adventure will be guided by Antonello Losito, one of Puglia's premier guides. Since 2007, Antonello has been sharing his passion for the food, landscape, and culture of Southern Italy with guests. His enthusiasm for the region is irresistible, and his interest in the culinary traditions of this region will ensure you will have an authentic experience. With tour escorts and food and wine experts Reggie Daigneault and Traci Brown, this trip is guaranteed to sizzle. Toast to life in Puglia: salute!