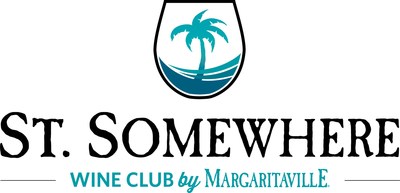 ORLANDO, Fla., May 23, 2018 /PRNewswire/ — Penrose Hill and Margaritaville, the global lifestyle brand synonymous with fun and escapism, have partnered to launch a new wine club, transporting members to a vacation state of wine. St. Somewhere Wine Club by Margaritaville features monthly delivery of premium bottles from around the world inspired by the Margaritaville lifestyle.
"We wanted to create a wine service that delivers the same fun, ease and relaxation of St. Somewhere," said Douglas McCreadie, president of global beverage alcohol of Margaritaville. "From wine aficionados to people who don't know if they prefer red or white, St. Somewhere Wine Club puts the focus solely on enjoying a glass of wine with great company. Our experts do the work while our members sip the rewards."
Every month, experts in vacations and vines hand select six award-winning bottles to send. Members have the flexibility to personalize each shipment, continually update their preferences or skip a month at any time.
For a limited time, new members can dip their toes in the water with a sample box of three wines for $15, plus tax and $4.95 shipping. Following the introductory offer, members may continue with the club and receive six bottles of wine every month for $89.99 plus tax (free shipping included).
To join the St. Somewhere Wine Club by Margaritaville or for additional information, visit www.StSomewhere.Club. For more information on Margaritaville, visit www.Margaritaville.com. Follow Margaritaville on Facebook at www.facebook.com/margaritaville, and on Twitter and Instagram at @Margaritaville.
About Margaritaville
Margaritaville is a global lifestyle brand inspired by the lyrics and lifestyle of singer, songwriter and best-selling author Jimmy Buffett, whose songs evoke a passion for tropical escape and relaxation.
Margaritaville features 12 lodging locations with more than 20 additional projects in the pipeline, four gaming properties and over 60 food and beverage venues including signature concepts such as Margaritaville Restaurant, award-winning JWB Prime Steak and Seafood, 5 o'Clock Somewhere Bar & Grill and LandShark Bar & Grill. More than 20 million travelers every year change their latitude and attitude with a visit to a Margaritaville resort, residential real estate destination, vacation club, vacation home rental or restaurant.
Consumers can also escape everyday through a collection of Margaritaville lifestyle products including apparel, footwear, frozen concoction makers, home décor and more. Additionally, the brand's food, beverage and spirits lines – including Margaritaville tequilas, rums, LandShark Lager and a new bestselling cookbook – deliver authentic, tropical escapism to fans around the world. Margaritaville, a state of mind since 1977.
About Penrose Hill
Penrose Hill is building the world's most customer-centric wine company. Collaborating with vineyards and winemakers all over the world, we make, bottle, and distribute small batch wines. We sell through a number of channels including retail, restaurants and direct-to-consumer. Data is at the heart of what we do and we use the feedback given to us by our customers and partners to optimize every aspect of the winemaking process from label design to flavor profile. Since we officially launched in 2015, our wines have won hundreds of awards and 90+ point scores at some of the most highly competitive wine competitions in America, including multiple Best of Show, Platinum Medals and 95 point scores. For more information, please contact info@penrosehill.com or visit http://www.penrosehill.com.
SOURCE Margaritaville
CONTACT: Samantha Jacobs or Kayla Louttit, Hemsworth Communications (for Margaritaville), 954-716-7614, Margaritaville@HemsworthCommunications.com
RELATED LINKS
http://www.margaritaville.com