I spent a week in Arizona in April and I made a point of finding out about Arizona wines. People thought I was joking about wine in Arizona but it does exist as an industry. There are no large scale winery operations, mostly small boutique concerns. The wine I tasted was good and different from my usual Washington wine palate. I found some delicious Petite Sirah and Tempranillo among the reds and the Viognier was one of my favorite white wines I tasted at the different wineries.
Some of the grapes grown in Arizona include Shiraz, Petite Sirah, Barbera, Tempranillo and Cabernet Sauvignon. The white wine grapes grown include Sauvignon Blanc, Viognier and Pinot Grigio.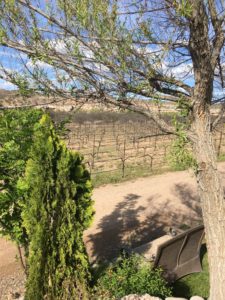 There are three different regions:
Verde Valley:   The Verde Valley Wine Trail is located north of Phoenix.  I visited a few of the Cottonwood tasting rooms; Arizona Stronghold Vineyards, Pillsbury Wine Company, Alcantara Vineyards, and Chateau Tumbleweed in Clarkvale.
Sonoita/Elgin: Sonoita was one of the first winegrowing regions to be granted AVA status in 1985. It is Arizona's first and only AVA which is located south of Tucson. You can find out information at Sonoita Wine Guild.   
Willcox:   The Willcox area grows about 74% of Arizona's wine grapes and they are located in the southeastern part of Arizona. To find out more go to Willcox Wine Country.
If you do go wine tasting in Arizona get a copy of AZ Wine Lifestyle so you can make a plan before you arrive in Arizona.